I love knitting for the holidays. It's hard to believe Valentine's Day is almost here and January is over. I went on a search for free Valentine Knitting Patterns and found all sorts of
cute ones that I wanted to share.  The Valentine Pattern pictured at the right is from KnitOnePearlToo at BlogSpot.
Patterns with Hearts
Felted Mini Hearts – These little hearts would make great decorations for a Valentine's Day party or place them in a heart-shaped candy dish. Use just a skein of yarn to make 15 Heartfelt Mini Hearts.  This free  knitting pattern is perfect for Valentine's Day. Make 15 hearts from one skein of medium weight, worsted yarn.
I love dishcloth patterns and you could make this one in all colors. I made a dishcloth for my mom a while back and she used it as a table scarf and put a vase on it-lol. Make this dishcloth in red and you could use it as a Valentine's Day decoration too. It's from a blog called Knit a Little More. Cute title! Here's another heart dishcloth pattern from KnitaLittleStore.
Know someone who is having a Valentine baby? Here's a sweet baby blanket with a heart. It's a great idea even if the baby isn't born in February.
How about a Valentine pillow knitting pattern? I love this one, entitled Loopy Heart Pillow.
Valentine's Day Knitting Patterns for Clothes
Valentine Lace Socks - When I used to be a surgical assistant, we always wore crazy socks or holiday socks. These Valentine socks would be perfect for that. From Emily Knits.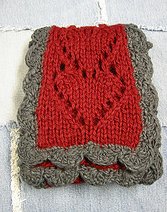 Heart Scarf Knitting Pattern - This pattern is featured to the left. It's from an entertaining blog called Nocium where you'll find lots of friendly posts and craft patterns. This scarf looks like it would be very warm and cozy on a February day.
From Follow the Star Studio, here's a Valentine heart pattern that could be a necklace or small bag. Very cute!
Valentine heart hat by Joanne Lew-Goltz called the Stacked Heart Hat. You could wear this comfy warm hat at any time, not just for Valentine's Day.
This darling sweater found on Tricia's blog would be perfect for the little girl in your life. It is by Tricia Brownstein.
Knit Culture.com offers another heart scarf knitting pattern.
Here are links to some other knitting pattern sites with literally dozens of Valentine knitting patterns.
Knitting Pattern Central – Patterns with hearts.
Ravelry.com -  Has no less than 184 free Valentine knitting patterns which include rings, hats, Teddy bears, scarves and all sorts of patterns with hearts. Ravelry requires registering but it's free.
Nice list of heart knitting patterns on Squidoo
All Free Knitting offers a free ebook for instant download with 9 knitted heart patterns. There is a beautiful Ruby Knitted Throw pattern included.
This is just the tip of the knitting iceburg if you'd like to create something to celebrate Valentine's Day. These are just some of my own favorites.
Tags: